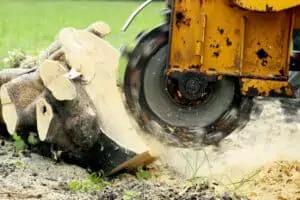 Stump Grinding and Stump Removal on Long Island
As a Nassau or Suffolk County homeowner or business owner, maintaining the appearance and safety of your property is a top priority. Whether a tree in your yard has fallen during a storm, you've taken down an unwanted tree yourself, or you've had a professional remove a damaged or diseased tree from your property; whatever the case may be, you may be wondering what to do about that unsightly, hazardous stump that was left behind. With stump grinding and removal services from Competition Tree, you can restore the safety and the aesthetic appeal of your land.
The certified tree care team at Competition Tree has the knowledge, experience, and equipment that you can count on to remove those unsightly tree stumps from your Long Island property. To prevent future growth, we'll remove your tree stumps from the roots, ensuring lasting results. We can also grind the stumps down and haul the wood chips away. When our arborists are on the job, you'll feel confident knowing that your yard will be stump-free and completely clean in no time.
Reasons to Remove Tree Stumps
Tree stumps aren't exactly visually pleasing; in fact, as time goes on, the more unappealing a tree stump will become. In addition to sticking out like a sore thumb, tree stumps can be problematic, as they can be a serious safety hazard. Mowing your lawn or playing in your yard can be extremely dangerous when a renegade stump gets in the way. Furthermore, the rotting and decaying wood can invite critters, pests, fungi, and diseases to your yard that can spread to other plants. Additionally, if the root system is still intact, new growth can emerge. Due to all of these factors, tree stumps can also reduce your property value.
For all of these reasons, removing tree stumps from your Long Island land is important. With Competition Tree's comprehensive stump grinding and removal services, you can avoid all of these issues and reclaim your yard.
Long Island's Trusted Stump Grinding and Removal Specialists
Competition Tree is a full-service tree care company that is dedicated to improving the safety and enhancing the beauty of Nassau and Suffolk County properties with high-quality services. Our certified arborists are professionally trained and highly experienced stump grinding and removal experts. We'll perform a thorough assessment of your tree stumps and we'll let you know which method we recommend: grinding or removal. Whichever option you choose, our technicians will use the most advanced equipment, state-of-the-art technologies, cutting-edge techniques, and proven strategies to ensure that your unwanted tree stumps are completely removed. We'll haul away all remnants, leaving behind nothing but an empty space. In fact, our results are so efficient that you'll have a hard time telling anything was ever there.
Remove those unsightly, hazardous tree stumps and restore the safety and beauty of your property with Long Island's stump grinding and removal experts: Competition Tree!
Why Choose a Competition Tree?
   

We're Passionate
Our certified arborists are passionate about trees. We pride ourselves on offering the highest quality, most reliable tree care services on Long Island.
     

We're Committed
Our professionally trained technicians are committed to meeting the needs and exceeding the expectations of our clients. We always go the extra mile to ensure customer satisfaction.
 

We're Experienced
Competition Tree has been restoring the safety and improving the beauty of Long Island properties for more than 22 years. We have successfully served dozens of clients throughout Nassau and Suffolk Counties, and we would love to do the same for you.