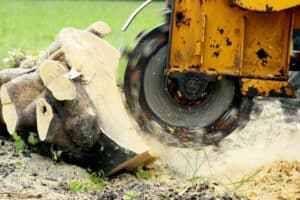 Stump Grinding And Removal
Nobody likes to see an old tree stump in their lawn or backyard. And the rotten ones are real eyesores! Most of you may be pondering over the best method to get rid of that unwanted tree stump. Some of you may be thinking about trying out DIY methods like using chemicals or burning down the stump to flames. Trust us, bad ideas! Scroll down this article to know all about stump grinding and removal. Thank us later.
What's The Need To Dispose Of Stump?
A ghastly-looking stump interferes with the overall look of your lawn, thereby decreasing its aesthetic appeal. It becomes an obstacle in the way of mowing and may even damage your mower if you happen to accidentally roll it over a stump! 
The stump may cause family members and neighbors, especially children to trip and fall and injure themselves. Also, with a stump on the way, it's impossible to try out any landscape design plans or replanting. So, for both beautification and safety reasons, we all need to get in touch with companies offering stump grinding and removal services. Because only their expert hands can help us out with disposing of the stump, in a perfect way!
Process: Stump Grinding Versus Stump Removal
Most of us get confused when it comes to making a choice between the two methods i.e. stump grinding and stump removal. Let's know more about both methods in detail.
Stump grinding involves the use of stump grinders that shreds a stump into little pieces of wood chips and sawdust. It doesn't remove the roots of the stump and therefore leaves a small hole only, that can be filled up with soil later. The grinder has the capability to grind the stump as low as 12 inches below the ground level.
On the other hand, in the stump removal technique, the stump is fully pulled out from the ground along with its roots. So, it starts with digging all around the stump to loosen all the roots and then using powerful machines to pull it out from the ground. It's a time-consuming task and requires more manpower and heavy-duty machines.
Most of the experts recommend choosing stump grinding over stump removal, for various reasons. Let's have a look at them.
Why Stump Grinding Is The Better Option?
In comparison to stump removal, stump grinding is a much better option. First, it's cheaper, as it needs lesser time, manpower and machines. Second, in the grinding method, once the work is finished, all you have to do is cover up a small hole. However, stump removal leaves a massive hole, that looks unpleasant and requires extra effort and time for filling. Third, stump grinding is safer for the environment as it doesn't use any chemicals to soften the soil, which is mostly used in stump removal methods. Fourth, with stump grinding, you'll get a lot of wood chips which you can use for filling up the hole along with the soil. Last but not least, stump grinding does minimal damage to your lawn. Comparatively, in stump removal, your lawn will look messier with the freshly pulled-out giant tree stump and its dangling roots! So, better go for stump grinding.
Benefits Of Stump Grinding And Removal
No matter, which method you ultimately choose to remove a tree stump, there is no doubt that you'll see many benefits. Your lawn or backyard will look well-maintained and pleasant to onlookers. Children can play safely without worrying about any accidental fall due to tripping over a stump. Your home will be pests-free (read termites and carpenter ants) as there will no longer be any stump to play host to them. And, finally, you'll get that extra space to use for landscape design for giving a makeover to your lawn.
Conclusion
With that, we come to the end of our article. As we mentioned earlier, letting professionals do their work is the best thing to do, as it saves your time and effort. So, why not contact Competition Tree Service, Long Island, for the same? The company boasts of having 22 years of experience in stump grinding for both business and residential purposes. They offer fast-paced services at affordable prices. Visit their website to know more & avail of their services.