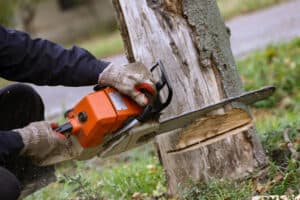 Remove Unwanted Trees with Ease
Is there a damaged tree on your property that's in danger of falling? Has a disease spread throughout a few of the trees in your yard? Are some of your trees growing too close to power lines? Do you plan on putting in a pool but you need to clear out a few trees to make some room? Whatever the case may be, if you need tree removal services on Long Island, you've come to the right place!
Competition Tree is a full-service tree removal company that has been improving the safety and enhancing the aesthetic appeal of Nassau and Suffolk County landscapes for more than 20 years. Pitch pine, maple, eastern red cedar, American beech, holly, and more; our team of professionally trained technicians have experience removing trees of all shapes and sizes. We'll perform a thorough assessment of the trees you want to have removed and will recommend the most effective removal method. Once you have approved our service estimate, we'll get to work removing your unwanted trees. You can depend on the arborists at Competition Tree to remove your unwanted trees, safely, quickly, and efficiently.   
Reasons for Tree Removal
Trees can be an asset, as they can provide shade and shelter, they can increase the value of your property, and can even aid in energy conservation. Unfortunately, however, there are times when trees can become a liability and have to be removed. If your trees are diseased, infested with pests, they're growing too close to your house or are encroaching on a neighbor's property, or they're interfering with power lines, they may need to be removed. If you want to extend your home or business or install an outdoor feature, such as a swimming pool, a deck, or a patio and trees are in the way, removing them may be necessary.
Whatever the reason, you can count on Competition Tree to provide top-quality tree removal services for your Long Island home or business.
Long Island's Expert Tree Removal Service
As a full-service tree company, Competition Tree has been providing local residents with premium-quality tree care for more than 20 years, and tree removal is one of our specialties. Our professionally trained, highly experienced arborists are committed to providing safe, reliable, affordable, and worry-free removal for all types of trees. We make the tree removal process easy. We begin by examining the condition of your tree, as well as the site, to determine the best approach. We'll present a service plan and price quote, and with your approval, we'll begin removing your unwanted trees.
Our qualified tree removal specialists use the most advanced techniques, proven strategies, and state-of-the-art tools and technologies. They also use adhere to the most stringent safety regulations and will take great care to protect your property. After the structure has been taken down, we'll haul all parts of your tree away. Long Islanders trust us for their tree removal needs because they know that they'll receive fast, efficient, affordable, and worry-free results.
Why We're the Right Choice
   

Certified Arborists
Our certified arborists are professionally trained, highly knowledgeable, and extremely skilled. We use the most proven techniques and advanced equipment, and we always adhere to rigorous safety regulations.
     

Two Decades of Experience
Competition Tree has more than 20 years of experience. We can remove trees of all shapes and sizes, and in all conditions. We're the tree removal experts Long Islanders trust most.
 

Commitment to Excellence
At Competition Tree, we are committed to ensuring the safety and satisfaction of our clients. For your peace of mind, we're fully licensed and insured, and we always go the extra mile to exceed expectations.