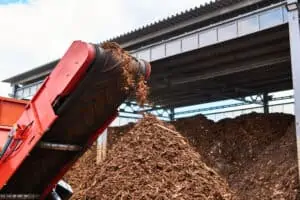 What is wood chipping
Wood chipping is the process of slicing and cutting large pieces of logs or stumps into little discs, cubes, or squares. The wood might come from agriculture, landscaping, or logging. It is done by a machine called a wood chipper. There could be three kinds of wood chippers. 
A disk wood chipper produces consistent shapes and sizes of wood chips. A drum wood chipper is energy efficient and can be used for purposes that do not require a consistent shape and size. A screw-type wood chipper is the least noisy and easy to use. You can use any of these to create wood chips, depending on how you are going to use the wood chips 
Why do you need to do wood chipping
Can be used as biofuel
Wood chips burn well and release energy when they do so. They can be used as biofuel to generate electricity or other forms of renewable energy. A lot of power plants are switching to wood chips as a replacement for coal as the non-renewable form of energy becomes harder to acquire. 
Barbeque
When you use wood chips in a barbeque, your food gets an infusion of sweet smoke. This is an interesting addition to many barbeque recipes. You might get different flavors depending on the type of wood you use.
Wood pulp 
Wood chips might be the incomplete product of the final wood pulp. Wood pulp has multiple beneficial uses like making tissue, boards, and specialty papers. Fibers, labels, and fresh food packaging all come from wood pulp. The green movement towards reducing carbon footprint has made these biodegradable products more desirable. More companies are now looking for wood chipping and wood pulping solutions to be able to manufacture these products. 
Playground surfacing 
Although playground surfacing has not been deemed a safe use for wood chips, many playgrounds use wood chips to fill up the playground. They could make a cost efficient, quick, temporary fix.
Mulch
Instead of pulp, wood chips can also be made into mulch. In landscaping, mulch is used for water conservation and preventing soil erosion. They can help with weed control in habitat restoration projects because it improves soil structure and increases nutrient availability for the garden. 
How to hire a wood chipper
If you have a garden that needs to be maintained, you can ask other friends that love gardening if they know any professional wood chipping services. Alternatively, you can also ask your local nursery. They might be able to guide you in the right direction. 
If you need wood chips for industrial purposes, you must find a wood chipping service that is capable of dealing with large orders. 
Questions to ask before hiring a wood chipper
How long have you been in business?
The company's experience matters. Look up their ratings and reviews so that you know you are committing to the best in your area. 
Which wood chipping equipment do you have?
If the service does not carry adequate equipment, you might not get the quality you want. Different types of wood chipping machines produce different types of wood chips. You should discuss your needs with the company in detail. 
How long does delivery take? Will delivery be arranged? 
Many companies provide fast service since the wood chipping process is automated. However, if they have too many customers and clients, you might have to wait longer. Discuss whether they will arrange the delivery or you need to take care of it. Plan it all in advance. 
Prices for bulk orders
If you're placing a bulk order, they might be willing to offer a better price. Discuss pricing in detail so that there are no disagreements. Also ask if delivery charges will be extra or there are any other services they provide that might be beneficial to you. 
Best wood chipping service in Long Island
Wood chips have many domestic and industrial uses. It is important to know the details before you hire a professional wood chipping service so that you know you are getting the best quality of wood treated in the best way. Look out for services like Competition Tree, that are known to be trusted in their area.