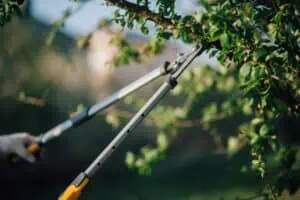 What is Tree Pruning?
Both tree trimming and tree pruning are vital for the health and beauty of your trees. Often, these terms are used interchangeably; however, while similar, there are distinct differences between these tree maintenance services.
Tree trimming focuses on maintaining the shape and appearance of a tree. As such, the main objective of this service is aesthetics. While pruning also helps to enhance the shape and beauty of a tree, the health of the structure is the primary focus of this service. Pruning protects a tree from diseases, helps prevent pest infestations, and promotes robust growth. The service involves removing damaged, loose, diseased, and dead branches that would prevent a tree from flourishing. Any growth that could potentially damage the tree is also removed, such as branches that are crossing over each other.  
How Often Should Tree Pruning Be Done?
Pruning is strategic and should be done at particular times of the year; however, the exact time of year depends on the species. Typically, trees that flower in the spring should be pruned immediately after they have finished blooming; usually mid-summer. Generally, trees that flower in the summer and fruit trees are pruned over the winter or in the spring. Tree pruning can either be done on a yearly or an as-needed basis. A certified arborist from Competition Tree can perform a thorough assessment of your trees and recommend proper pruning strategies to ensure optimal health.  
The Importance of Professional Tree Pruning
Tree pruning is a complex process. It requires a great deal of knowledge and skill. If the task isn't done properly, a tree's growth can be stunted, and excessive pruning can even lead to disease and pest infestations. In the worst-case scenario, improper tree pruning can end up killing the plant. To ensure the health and safety of your trees, having a professional trim your trees is highly recommended.
Certified arborists are properly trained and are well-versed in the pruning needs of various species of trees. Not only will a professional know the ideal time to prune your trees, but they will also know what type of techniques to use in order to ensure your trees maintain optimal health. With expert tree pruning services from Competition Tree, your plants will not only be healthier, but your entire landscape will be more beautiful. We have been providing Nassau and Suffolk County property owners with premium-quality tree care services for more than 22 years. Our arborists are certified, licensed, and insured, and they combine the latest techniques and time-tested strategies to ensure the highest quality results. We offer guaranteed tree pruning services and we always go the extra mile to ensure complete satisfaction.
Why Choose Us?
   

In-Depth Knowledge  
Our certified arborists have the in-depth knowledge that tree pruning requires. They are well-versed in various tree species and know the ideal time for pruning. They also know the exact processes to use to ensure the best results.
     

Guaranteed Results
We are committed to ensuring that each and every client we serve is completely satisfied. If for any reason you are unhappy with our tree pruning services, give us a call and we'll send a technician out to correct the problem right away.
 

Track Record of Success
In the more than two decades that we have been in business, we have had the privilege of successfully serving dozens of satisfied clients throughout Nassau and Suffolk Counties. We would be honored to improve the health and beauty of your trees, too.